FHIR® is the introduction of a new HL7 standard that makes it easier to interact with health data and transmit it. Together with the SMART Health IT initiative, it benefits patients, providers, and app developers in different ways.
App Developers
Build once – Once you build your app, you can launch it across many health systems. Patients from different health systems can use a consumer single app, or providers can use a business app running within the EHR with minimal modifications.
Patient mediated data – With FHIR, SMART, and the new rules in Meaningful Use 3, patients are in control of their data.
Easier developer experience – FHIR® and SMART implement RESTful APIs and OAuth2 just like most other APIs developers are familiar with.
Join an ecosystem – There are many tools and services that are availabile to suppor the FHIR® standard. You can make development much faster by using one of them like 1upHealth's FHIR® API platform.
Health Systems & Providers.
Launch Apps In your EHR – One of the most important benefits is that health systems and providers gain a method to launch applications from right within their EHR. And those applications can be built by external developers is a more scaleable manner without specific implementations or custom integrations for each organization.
Interoperability – because FHIR® contains more discrete data elements, it's easier to transmit only the necessary pieces of information. That facet also makes it more manageable when you compare FHIR® to the previous CDA format which contained the full patient history and often became brittle.
Patients
Get your health data – Prior to FHIR® patients would download their data in large text files including CCDAs or would get printouts and CDs with data that was disorganized. To parse these documents and make them interactive was nearly impossible or varied by organization.
Securely Share medical health data – With FHIR® and SMART and through Meaningful Use 3, patients have the ability to authorize access to their health data to any app like the 1upHealth patient data aggregator app.
Other content you may be interested in: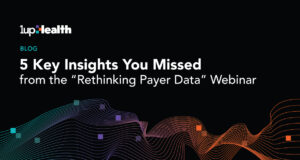 1upHealth recently hosted a webinar entitled, "Rethinking Payer Data: The Need for Computable Clinical Data." Moderated...